WordPress Comments. WordPress users don't need a plugin to accept comments on their blogs as WordPress comes with a built-in commenting system. Yet, the integrated comments in WordPress provide very basic spam sensitive features. There are far more advanced commenting plugins available. Here are the best alternative commenting plugins for WordPress.
Why Comments on WordPress
An active comments section adds value to your web content:
It helps site owners engage with their readers.
It enhances the content: digging deeper into it or providing an alternative viewpoint
To receive lots of comments, you need the right infrastructure.
WordPress Comments
WordPress comes with a built-in commenting system that is easy to use. After adding their name, e-mail and web address (optional), web visitors can leave a comment. Many WordPress blogs and websites use it. The default WordPress commenting system is free of charge and easy to use.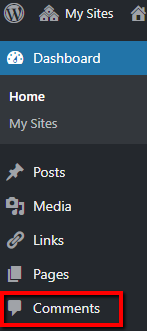 Yet, it is very basic and insecure. It lacks updates, response notifications, support and social media integration. And it leaks spam.
Turn off WordPress Comments on general pages
Log in to the WordPress Administration.
Click on "Settings".
Click on "Comments".
Uncheck the "Allow site visitors to comment on new articles" checkbox.
"Save" the change in settings.
Turn off WordPress Comments on specific posts
Log in to the WordPress Administration.
Click on "Posts".
Select "Quick edits".
Uncheck "Enable comments" to turn off the discussion under each post.
"Save" the change in settings.
Alternative Commenting plugins for WordPress
There are far more advanced commenting plugins available.
Some of the best alternative commenting plugins for WordPress:
1. Jetpack Comments
2. Yoast Comment Hacks
3. Postmatic
4. Disqus
5. WP Discuz
1. Jetpack Comments
First, Jetpack Comments comes with integrated social media login options. Such as Twitter, Facebook and Google+ accounts.

It is easy to install. Visitors can choose to receive e-mail notifications and follow-up comments. Yet, this heavy-weight plugin consists of much unnecessary code. It slows down your site.
2. Yoast Comment Hacks
Second, Yoast Comment Hacks make comments management easier. The plugin optimizes some core WordPress comment features. It comes with better comment notification e-mails.

It can redirect new comments to a Thank You page. It can e-mail individual comments or all comments on a post.
3. Postmatic
Third, Postmatic is a commenting management tool via e-mail. It doubles as a supported opt-in plugin, with pop-ups, slide-ins, and top bars. By commenting on the WordPress website, the web visitor automatically signs up to your e-mail list, too. And will receive all new posts via e-mail as soon as you publish.

The reader can read your content directly from their e-mail inbox. Users don't need to visit your website to leave a comment. They can simply click to reply to the e-mail or respond to other users' comments. The e-mailed comment posts directly to your website in real-time. Postmatic hides the commenter's e-mail address to protect their privacy.
4. Disqus
Fourth, Disqus is one of the most popular and advanced commenting systems in the world. The comment system works with an external Disqus API, so its use is not limited to WordPress. Disqus supports comments, social login and replies to notifications. It keeps spam to a minimum and encourages quality discussions.

Web visitors reply via e-mail and can leave rich media, such as videos and images, in their comments. They can 'follow' other web visitors to view their comment history. Yet, the Disqus commenting system isn't perfect. There are many options for quick logins, such as Facebook, Twitter, Google+ or a Disqus account. But web visitors need to sign in before commenting. Besides that, these social logins do not guarantee online privacy.
5. wpDiscuz4
Fifth, wpDiscuz4 is one of the best and most advanced WordPress comment plugins. wpDiscuz4 is the best alternative to Jetpack Comments, Facebook Comments and Disqus. This feature-rich discussion plugin offers everything you can remember for your comments. It automatically replaces WordPress Comments after installation in WordPress.

wpDiscuz4 allows comments without registration. It comes with an intuitive user interface and many comment sorting methods. wpDiscuz4 includes AutoRecover and User rating. Sign up or register through social media profiles, such as Facebook, Google or LinkedIn. Or leave an anonymous comment if you prefer online privacy. Built for speed, it supports "load more comments" buttons. wpDiscuz offers loads of integrations, too, such as wpDiscuz-Postmatic. This allows responding to comments directly from the inbox.
WordPress Comments
Weigh up the strengths and weaknesses of each system to consider how the features fit your site's needs. And then make your decision.
No WordPress yet? Buy your WordPress package at ACTIVE 24.
New to WordPress?
Running the default WordPress Comment system is adequate to start with.
Intermediate WordPress user?
Use plugins such as Jetpack or Yoast Comment Hacks.
Advanced WordPress user?
Develop a community with Disqus or wpDiscuz4.
Questions? Ask our Customer Service Department.